Years ago, I read Michael Gerber's The E-Myth Revisited...and got nothing from it.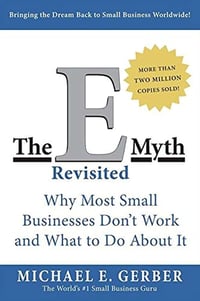 In 2022, Gerber was a guest on a podcast I liked, and I was blown away. So I quickly re-read his book and was horrified that he was saying literally the same things that had just resonated for me so much, but I had somehow completely missed them the first time around.
This time, I not only got the message but also decided to apply it to my business.
A Quick Summary
Glossing over a lot of detail, Gerber teaches that every business has three core functions: generating leads, converting those leads to customers, and onboarding and serving those customers consistently.
By documenting, refining, revising, and simplifying these processes into systems, companies can invest in marketing and sales to bring in new clients and customers and hire and train inexperienced workers to deliver consistently for them. By working on the business and not in the business, the entrepreneur creates an organization that's not dependent on his or her efforts.
His go-to example is McDonald's, which is run by 16-year-olds who last an average of three weeks because the systems are so damn good.
Applying the E-Myth
In terms of Angles, Inc, we were executing on all three core functions, but not particularly systematic about it.
Our lead generation was most systematized: Using LinkedIn, we'd connected with some incredible clients including Rensselaer Polytechnic Institute's Rensselaer at Work and the Leavey School of Business at Santa Clara University, as well as many smaller ones along the way.
Our sales conversion was hit-or-miss. We were closing deals but did not have a consistent process for demonstrating our product, following up, asking for the order, supplying a quote, generating a contract, etc. We were helping clients with their HubSpot accounts, and even had our own that we used.
Operationally, we were providing excellent service and our clients loved us, but we weren't consistent about it, especially not between clients. We had too much stored in our heads and almost no documentation. We had a ClickUp account for project management but hardly used that, either.
LinkedIn + HubSpot + ClickUp
In January 2022, we made the decision: the only way to properly service our clients while growing our business was to get serious about our systems. So we did a deep dive into project management with ClickUp, which is truly phenomenal software.
ClickUp forced us to think through everything we did, every step of every service for every client. It wasn't easy, but it was enlightening. Everywhere we looked, we saw unnecessary steps, inconsistencies, single points of failure, and all sorts of other things we wanted to avoid.
It felt excessive to use checklists for tasks we could execute without thinking, but that was the point. Until we'd documented and refined and perfected a system, we couldn't bring someone in to do it and we couldn't grow.
After nearly a year spent transitioning to ClickUp, it was time for another big change. We'd put around 20 clients on the free version of HubSpot because we needed a place to store the leads we were generating for them that would allow them an easy way to follow up. The bigger clients, however, were bumping into the constraints of the free program and needed to graduate to the paid version.
Eating Our Own Dog Food
We call this blog "Eating Our Own Dog Food" because that's a core tenet of Angles, Inc.: the programs we recommend to clients are the ones we use ourselves.
So, we started paying for our Starter Plan first and then graduated to the Professional level when we joined the Agency Partner Program. Ironically, about the same time, ClickUp announced a partnership with HubSpot for significant integration between their systems. Confirmation bias or proof that we made the right decisions, you be the judge.
In the last few weeks, we've attacked the HubSpot Academy with the same intensity we studied ClickUp a year ago. As an all-in-one sales, marketing, CMS, customer service, and operations platform, it is simply massive while simultaneously intuitive.
This blog post is, of course, part of a new website that's being created in HubSpot CMS, following the HubSpot inbound marketing methodology. The best way to learn something is to simultaneously do it and teach it and we intend to be world-class.
This week also marks the start of our first big HubSpot implementation. While we obviously can't share specifics about an individual client, we can and will share the general lessons we learn along the way.
In the end, it all comes back to the systems in Michael Gerber's The E-Myth Revisited. Using a combination of ClickUp and HubSpot plus our own proprietary work in LinkedIn and traditional advertising programs like Google AdWords and Facebook, we're building systematic lead generation, sales conversion, and operations for ourselves and our clients.
If you're interested in hiring us to do the same for you, please schedule a time at paulangles.com.